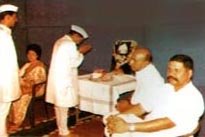 Prabodh Group stands for an innovative movement in the business field, which creates wealth but uses it predominantly for social purpose. Thus, Prabodh group of entrepreneurs conducts a cluster of professional activities, the surplus generated from which is dedicated to the work of Jnana Prabodhini, an educational trust in Pune.
Prabodh, the very name indicates its origin from the educational heritage of this innovative institution called 'Jnana Prabodhini' of Pune, meaning 'Awakening through Knowledge'. The alma mater of this 50 year old institute cherishes a life-long relationship with the organization which puts forth a dream of solving problems of our country through man - making education. Financial autonomy of Jnana Prabodhini is preserved by its alumni by offering Guru Dakshina -- a devotional sum in gratitude, regularly.
Prabodh Group, the cluster of professional enterprises, was founded by the past students of Jnana Prabodhini in 1988 with this very objective. Here, there is a voluntary ceiling on the individual income, while the surplus goes back to the society,on regular basis.
Having accomplished excellence in their educational carriers, the Prabodh members acquired long professional experience in various fields of business and industry. The multi dimensional activities as elaborated further, depict this versatility of the Prabodh Group.
It, therefore, transcends the conventional concepts of modern business. Prabodh is a highly professional body in Print Expression, Manufacture, Investment and Consultation. At Prabodh, not only an efficient service is provided, but a hope for the future is incarnated in the endeavour, that is Prabodh.